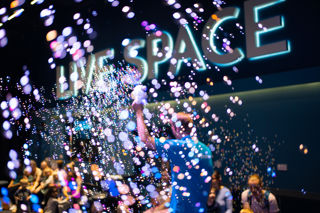 Small Space Mrs Santa Special
Join us for a very special pre-Christmas Small Space Day, including a visit from Mrs Claus all the way from the North Pole!
17th Dec 2023
Early Years Development Activities
Lots of Toddle Room
No School Groups
Premium Event - not included in the Annual Pass offer
Join us for a very special pre-Christmas Small Space Day, including a visit from Mrs Claus all the way from the North Pole!

Our friends at NORAD are getting ready to track Santa as he heads off, delivering gifts to all the children around the world.

Come along and enjoy a special Christmas Small Space Day, with songs, stories, games and the whole Centre for the under 5s to explore.
Activities
Live Santa Science

Over to the Elves to look at all the work they have to do to make Christmas magical, followed by our Sing-A-Long Snow Time Sensory Party - Time to dance and play in the snow. Lights, snow, and music all turn this into an out of this world sensory experience for the Christmas season.

Mrs Claus Storytime

11:00, 12:00, 13:00 and 14:00

Join Mrs Claus and the elves for a selection of Christmas stories. There will be time for a photo opportunity. 

Make Reindeer Headbands

Looking for a special Christmas outfit to wear? Make your very own Rudolph, complete with bright colourful nose and googly eyes!

Christmas Rocket Decoration

Decorate your own rocket Christmas decoration! Stick coloured tissue paper to the back for the ultimate momento to take home.

Astronaut George Trail

Astronaut George is travelling around our Solar System looking for samples that he can bring home… Can you help Astronaut George find all the missing aliens?

Tinytarium

A tiny planetarium has been created, where Sunshine can explain all about Night and Day to our smallest visitors.

Planetarium Show
All day tickets include a fulldome planetarium show on your first visit. For Small space day we have three shows to choose from, including a very special show, created for toddlers to enjoy.
One show is included in your first visit. If you would like to add a second show, you can purchase additional tickets for £3 per person from the ticket desk.
Astronaut George Show

10.20, 10.45, 11.10, 11.35, 12.00, 13.10, 13.35 and 14.00

Which is the best planet to live on? What dangers will he find? But most importantly – will he find any alien friends to play with? Find out in this inter-planetary adventure!

Astronaut

The exploration of Space is the greatest endeavour that humankind has ever undertaken. What does it take to be part of this incredible journey? What does it take to become an astronaut?

Experience a rocket launch from inside the body of an astronaut. Explore the amazing worlds of inner and outer Space, from floating around the International Space Station to manoeuvring through microscopic regions of the human body.

CAPCOM GO!

Fifty years ago the first human walked on the moon… discover the epic story behind this historic moment which will inspire the next generation of explorers, thinkers and dreamers.
FAQs
This is a toddler event, so it is suitable for children aged 2-5. However, children younger than this may enjoy the sensory elements and children older than this will also enjoy visiting the Centre and the exhibition.
No. As the day is planned around small children and parents, we do not encourage or take group bookings. Please see our EDUCATION pages to see other programmes that will be more suitable for you.
The National Space Centre hosts four Small Space Days each year, three of which are included in the Annual Pass offer, so one ticket will gain you entry into all of them (don't forget to book your return visit online in advance). Our Small Space Mrs Santa Special is a Premium Event, so is one of the five days a year that are exempt from the Annual Pass offer (however, if you buy a ticket for this event you can enjoy the other three for FREE!) 
Yes. The event is aimed at providing a safe and educational space for all those looking to develop skills through play. We include many opportunities throughout the day, where children and parents can drop in and drop out at their leisure. We do not take large school or group bookings, so this is a special day for smaller children, or those who need a quieter and gentler pace to enjoy the Centre. You should also look out for our Accessible Afternoons and SEN/SEND Home Education Days.
No. The Centre is hosting this event for small children and their families. The galleries will be busy with children's activities, and you will not get the best experience. Please do look at our Space Lates events, or consider visiting on a sunny weekend date, when we tend to be a lot quieter (sunny summer holiday midweek dates are also good).
No. All activities are open for children to participate in, but they must be supervised by a parent, grandparent or guardian at all times.