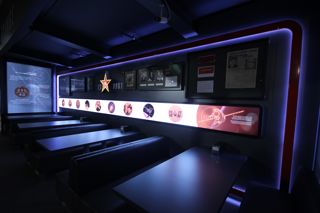 Terms and Conditions of Sale
Please check the date for which you have purchased your ticket, as tickets are valid for this date only.
Please book a show time that is at least 30 minutes after the time you plan to arrive at the Space Centre. If you miss the show that you have booked, we cannot guarantee that we can book you into an alternative show.
All visitors entering the National Space Centre must have a valid ticket.
Tickets that are bought in advance are non refundable.
Tickets are non transferable and cannot be re-sold or passed onto any third party.
The email that you receive is the confirmation of your booking.
Cardholders must be present with their credit card and the email confirmation when collecting their tickets.
A child is aged between 5 and 16 years inclusive. An adult is aged 17 years and over and a senior citizen is aged 65 years and over. Children under the age of 5 are free of charge. Children under the age of 14 years must be accompanied by an adult.
If purchasing a concessionary ticket, proof of concession will be required on the collection of your tickets.
Carer tickets are available to assist visitors who need support to access the Centre. Proof of Personal Independence Payment (PIP), Carer's Allowance Letter of Award, or with a carer's card (available from many local authorities).
The free Carer ticket is only available when purchasing a disabled concession ticket. It is not offered on a FREE under 5 ticket. 
Parties of 16 people or more constitute as a group and will be unable to purchase tickets online. Please call 0116 2582111, for prices or to make a group booking.
Full paying ticket holders who donate their admission price, either with Giftaid or by completing a form can upgrade their day pass to an Annual Pass at no extra cost (terms and conditions apply).
All prices are correct at the time of publishing. However, they are subject to change without prior notice.
Visitors are reminded that for technical or operational reasons, certain exhibits or areas may be closed. The National Space Centre reserve, the right to change the event schedule at any time it is deemed necessary or appropriate to do so.
Day tickets do not automatically allow visitors access to all extra events running on the day of their visit. Any extra events will need to be booked into at the ticketing desks on the day of the visit and may carry a charge.
The National Space Centre reserves the right to refuse entry to the Centre, as per our terms and conditions of entry (available on request).
Registered assistance dogs are welcome in the centre. Other pets are not.

Giftaid and Giftaid Terms & Conditions
Did you know that the National Space Centre is an educational charity and as a charity, we can treat your admission fee as a charitable donation.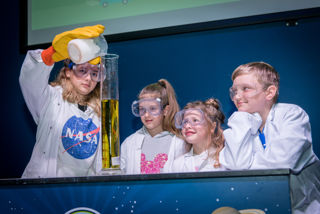 What is Giftaid?
Instead of paying for admission, you can choose to make a donation (equal to the admission price). By completing a Giftaid declaration form we can claim back the tax you have already paid, currently 25p in every £1.00 from the Inland Revenue via the Giftaid scheme.
Who is Eligible?
The terms and conditions of the Giftaid scheme state that to be eligible to Giftaid you must meet the following criteria. An individual must be a UK tax payer, who must pay an amount of income tax and/or capital gains tax at least equal to the tax that the charity reclaims on your donations in the appropriate tax year (this is currently 25p for every £1.00). Donations made by individual donors must be from their own money, an individual cannot make a donation under Giftaid using someone else's money. Donors can only donate the admission price for themselves and their immediate family members. In return for the donation, you will be offered 12 months admission* to the National Space Centre. The annual pass is also available to visitors who are unable to or choose not to Giftaid.
Other information
The information provided is confidential and will only be passed onto the Inland Revenue. You may cancel this donation by contacting us within 30 days; this will then be treated as a normal admission fee. If you have previously donated at another attraction, you can still donate your admission fee here. You can donate as many times as you like as long as you have paid Income Tax equal to, or more than, the tax being reclaimed by the Charity.

*Annual Pass Holder
A visitor will be upgraded to an Annual Pass at no extra cost. An Annual Pass allows 12 months free admission to the pass holder. It does not include subsequent Planetarium shows, extra programmes and entry to premium events (these are limited to up to 5 days in a 12 month period). The details of premium events are available on our website or by contacting us direct on 0116 2610261. It does not allow fast track entry or guarantee entry to the Space Centre on busy days. A day pass must be issued on every subsequent visit. Full terms and conditions are given out with every pass and are available on request.