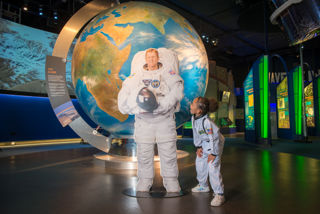 At the National Space Centre, you can find out all about the history and future of space exploration, the planets and the farthest reaches of the universe.
However, if you are unable to visit us you can keep up to date with the latest in space news in our Space NOW Blog.
If you want to hear the latest from behind the scenes join Elliott for Our Space every fortnight. 
You can also discover important dates in the space calendar on our Today in Space page. 
We regularly welcome astronauts to the Centre to tell us about their missions. Our Astronauts gallery showcases all the astronauts we have had the honour to meet.
Finally, if you want to know more about our team, our events and all the 'backstage news' then you can join Elliott to find out more in Our Space.