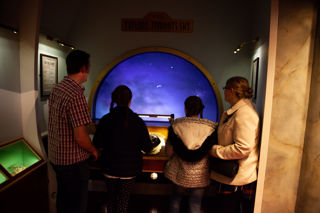 Explore the wonders of our Universe. Cast your vote on whether or not we are alone, take a trip through a wormhole and watch the Big Bang.

Take time to look up and see the technology created here on Earth that is observing the Universe to further science and improve life on our planet.

Step into the Stellarium to see how our Sun fits into the known Universe, take your picture to become an alien, come face to face with an Alien Autopsy Roswell head or even see if you can recreate the Big Bang.

There is lots to do and discover in The Universe.